NEW! Get I-10 Current Weather Conditions with our Interactive Weather Observation and Alert System
Interstate 10 Weather
Interstate 10 Weather
Forecast Information is Loading! Hear the
I-10 Weather Briefing
that will automatically start playing. Use the I-10 Radars below or scroll down to see Interstate 10 Weather for yourself with I-10 Weather Cams. This Interstate 10 Weather forecast is great for Truckers, RVs, Cars, Motorcycles, Vacationers, Salesmen, or anyone. The NOAA Radars and Temperature Forecasts are not copyrighted to this site and are for public use.
NEW! Fun Interactive Map. Get I-10 Current Weather Conditions and Your Long Range Weather Forecast
Interstate 10 Weather Radars
Interstate 10 Weather Forecast High and Low Temperatures
Interstate 10 Traffic Cams
I-10 Mobile Alabama Weather Cams
Mobile Traffic Cams
I-10 Texas Weather Cams
Houston Cameras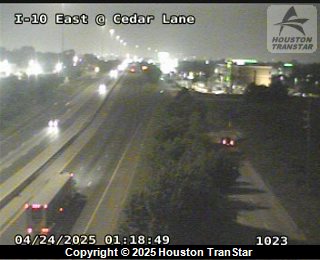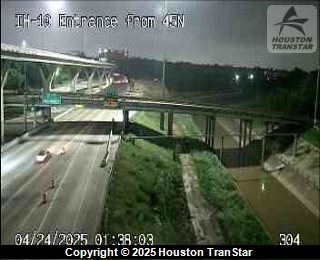 San Antonio Traffic Cams
I-10 New Mexico Road Conditions
Interstate 10 Road Conditions New Mexico
Interstate 10 Weather History
November 7, 1996
In Houston, TX thunderstorm winds caused over $100,000 in damage and stretched across portions of nearly all counties along and north of
Interstate 10
where trees and powerlines were downed and homes were damaged.
June 8, 2001
The center of the tropical storm approached Houston for a second time on June 8th and the rain intensified across southeast Texas. Conroe measured 8.23 inches during a six hour period during the afternoon. Over 20 inches of rain fell in a twelve hour period. Tropical Storm Allison turned out to be the flood of record for the Houston Metropolitan area with portions US highway 59 and
Interstate 10
deeply submerged in the flooding.